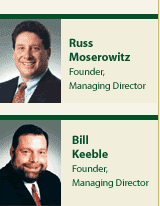 RUSS MOSEROWITZ

Managing Director,
Franchise Insights, LLC

A respected business leader, accomplished in driving large teams in the service sector toward specific profit objectives, Russell Moserowitz founded Franchise Insights, LLC, a franchise advisory firm, with his partner Bill Keeble, in 2003.
While serving as a senior executive with Cendant Corporation, the world's largest franchisor, whose brands include Ramada, Days Inn, Century 21, RCI and Avis, Mr. Moserowitz helped manage virtually all aspects of franchising, ranging from operational support, quality assurance, marketing and training, to licensing and strategic partnerships. He also played a key role in the company's franchise sales and marketing efforts, and served as a primary witness in litigation-related matters for over a decade.

His expertise also enabled the company to expand beyond the hotel industry to the real estate, timeshare and car rental industries, growing Cendant to 20,000 total franchised units.
Mr. Moserowitz concluded his 12-year tenure with Cendant as Senior Vice President, Franchise Operations, where he developed and managed the company's operations strategy responsible for the service delivery for franchises across Cendant's nine hotel brands. Mr. Moserowitz achieved dramatic increases in both profitability and efficiency ratings within the operations team while continuing to drive incremental revenues and enhancing the value of the franchise relationship. His distinctive approach to franchisor/franchisee relations has been credited as one of the most significant factors that established the company's reputation for delivering a great level of service while becoming the largest and most profitable franchise organization in the world. His innovative integration and orientation program greatly improved the operations, profitability and start-up period experienced by new franchises. Mr. Moserowitz also achieved record performance in the areas of licensing and franchise retention, again developing a new approach and combination of functions never previously attempted in hotel franchising. During his franchising career, he has also led operational due diligence and integration teams for various corporate acquisitions.
Mr. Moserowitz began his franchising career in 1986 when he joined Howard Johnson, and soon became the youngest controller of a major hotel company. He earned a BS in Accounting from Lehigh University in Bethlehem, PA, holds his CPA certification, and is a member of the International Franchise Association (IFA). He and his wife, Jeanne, reside in Randolph, NJ, with their three children.
BILL KEEBLE

Managing Director,
Franchise Insights, LLC

A dynamic, seasoned senior executive with 20 years of franchise industry experience, Bill Keeble established Franchise Insights, LLC, a franchise advisory firm, with his partner Russell Moserowitz, in 2003.
Renowned for his keen insight in the areas of sales, logistics, marketing and operations, Mr. Keeble is skilled at problem solving and adept at tackling sizeable challenges to achieve organizational goals. These strengths were honed at the Cendant Corporation, a multi-billion dollar global franchising and hospitality conglomerate, where Mr. Keeble successfully helped build diverse brands in the real estate, travel and financial industries during his 17-year tenure. Under his leadership, Cendant's hotel division, comprised of franchise systems ranging from small, start-up companies to large, well-established brands, expanded dramatically, growing from 350 units to 6,500 units.
Joining Cendant in 1985 with the Days Inn brand, Mr. Keeble steadily rose to senior operational positions. In his most recent role as Executive Vice President of Operations, Hotel Division, reporting directly to the Chairman, the company enjoyed record-setting growth year after year under his leadership. Mr. Keeble also created numerous retention programs, including a unique opening procedure for new franchise units within the company's nine hotel brands (including Ramada, Super 8 and Travelodge), resulting in a significant increase in royalty streams. While serving as senior executive for brand quality and consistency, he oversaw the automation of a quality assurance system conducting over 25,000 evaluations per year, touted as the most cost-effective in the country. Under his direction, the company successfully streamlined its training function while maintaining the unique culture of each hotel brand's training program. Mr. Keeble also spearheaded the company's initiative into minority franchising and served as the former chairman of the American Hotel and Lodging Association's sub-committee for quality.
He began his franchising career in 1983 with Hospitality International, serving as Reservations Manager and Franchise Relations Manager for Scottish Inns, Red Carpet Inns and Master Hosts Inns. Mr. Keeble earned a BS in Business Operations and Personnel Management at the University of Tennessee in Knoxville, and is a member of the International Franchise Association (IFA). He and his wife, Ruth, reside in Basking Ridge, NJ.

For more information please
contact
Franchise Insights, LLC.